Nutrition at its best during Covid-19
The connection between our diets and brain function is an important topic. At Brain Balance, we work to improve behaviors, attention and focus, mental health, sensory processing struggles and so much more that stems from our brain. There are numerous factors that can play into the health of our brains, and one key, controllable factor is nutrition.
Nutrition can be so complex, so we are going to break it down for you! The keys to brain health are a nutritious diet rich in omega-3s, antioxidants, and vitamin E.
Omega-3s are "essential" fatty acids that our bodies need but can't make on their own. We must rely on our diet to get enough of them. Omega-3's are involved in neurotransmitter synthesis in our brains and can help improve learning and memory. They also may reduce inflammation and oxidative stress.
Antioxidants are especially important for brain health. The brain is highly susceptible to oxidative stress. Antioxidants reduce oxidative stress, stimulate blood flow and encourage neuron and blood vessel growth in parts of the brain involved in memory and learning. Vitamin E is also an antioxidant that helps preserve brain function and protect against neuronal degeneration.
Here is a list of some delicious, brain-boosting snacks that may positively affect your child's cognitive processes, emotions, and give them the very best chance to live their happiest lives.
Avocado Toast - Avocados are rich in monounsaturated fatty acids that improve our cognitive function and lower inflammation. Pair that with whole-grain gluten-free bread, drizzle a little bit of olive oil, salt, and pepper and you have a tasty brain-boosting snack.
Tuna Salad with Whole-Grain Gluten-Free Crackers - Tuna is a great option for (healthy) fatty fish. Pair it with some whole-grains for a perfect mid-day snack!
Green Smoothie - Smoothies can be a great way to get in some extra fruits and vegetables into our day. Add some nut-butter, avocado, chia or flaxseed for an added omega-3 and vitamin E boost. For our picky eaters, you can try freezing them in popsicle molds for a fun, refreshing twist!
Kale Chips - Green, leafy vegetables are loaded with so many wonderful vitamins and minerals, including vitamin E. What better way to eat them than in chip form! Just toss them in some olive oil, salt, and pepper to taste.
Apple Slices with Almond Butter (or any nut butter of your liking!) - Apples are rich in many vitamins and minerals, and almond butter, is rich in vitamin E and omega-3's, which can help slow the release of naturally occurring sugar and prevent a blood sugar spike.
Homemade Trail Mix - You can mix and match different dried fruits with nuts and seeds of your choice. Add some cacao nibs for another antioxidant boost.
Dark Chocolate Almond and Berry Clusters
Cocoa and berries are rich in antioxidants and whole almonds are rich in omega-3s and fiber. This is a perfect brain boosting sweet treat!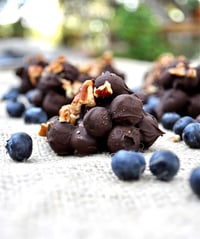 Ingredients
- 1 cup Dark Chocolate (Enjoy Life is a trustworthy brand)
- 2 cups Fresh Blueberries
- 1/4 cup Chopped Pecans
Directions- Line a baking sheet with parchment or wax paper.- Melt the dark chocolate chips in a microwave-safe dish. Cook for 3 minutes at 50% power. - Stir the blueberries into the melted dark chocolate.- Using a soup-spoon (or something of a similar size), spoon clumps of the melted dark chocolate and blueberries onto the parchment paper-lined baking sheet.- Sprinkle each cluster with the almonds or nut of choice.- Place in refrigerator for approximately 30 minutes to set. Plate and enjoy!
*Will keep in an airtight container in the refrigerator for about one week https://fedandfit.com/dark-chocolate-blueberry-clusters/
- Written by Ariana Kulinczenko, Registered Dietitian, LDN, Brain Balance Nutrition Team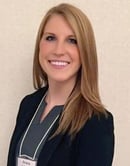 The Balance 360 Nutrition System is Brain Balance's proprietary nutritional plan and is a crucial part of each student's program. Our proprietary nutrition program is designed to be self-guided, with the appropriate support by the our Nutrition Team of Registered Dietitians. Balance 360 supports each child's progress by nourishing their brain and body with healthy food and removing foods that may be causing behavior or focus issues.
We are ready to help even the pickiest eater make progress on their eating. Our step-by-step approach is designed to help parents customize a nutrition plan to fit a child's lifestyle and needs. Your nutrition appointments take place virtually so that you are able to connect with our dietitians from the comfort of your home or office.